Eat fewer calories than you burn each day and you'll lose weight. There's one major issue with this time-tested approach: you'll probably strip away more than just body fat. Weight loss, especially fast weight loss, achieved after crash dieting or drastically slashing calorie intake, leads to a decrease in muscle mass and subsequent drop in metabolism. A slower metabolism means your body needs even fewer calories to maintain your new weight (weight loss alone = fewer calories needed to carry around a smaller body, add muscle loss and your calorie needs drop even more). In addition, with less muscle you won't be able to push yourself as hard during workouts (and therefore burn as many calories). This can put you on the fast track to yo-yo dieting, weight loss and regain. There's a much better approach and a recently published study highlights how you can lose body fat and gain muscle at the same time.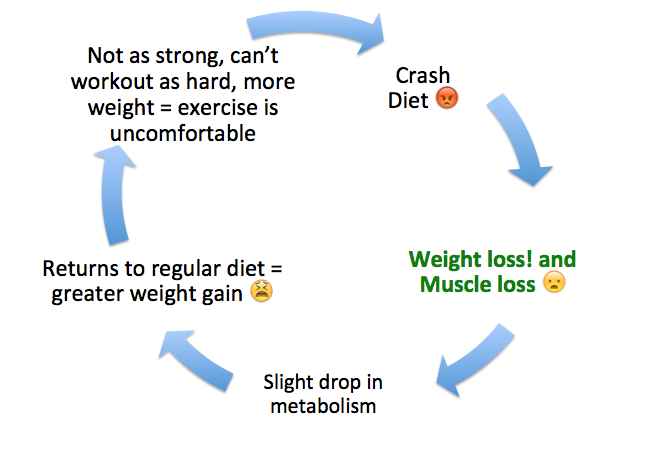 In this article I'll cover:
How dieting can slow your metabolism;
The latest evidence on losing fat and building muscle at the same time;
Why researchers didn't use a low carbohydrate diet;
How you can keep the weight off.
How Dieting Slows Your Metabolism
When you eat fewer calories than you need each day, your body is forced to pull from its backup supply, body fat and muscle, to maintain your energy (calorie) needs. Some people lose a substantial amount of muscle when dieting, 30% or more, of their initial muscle mass. In addition to a decrease in muscle mass and slower metabolism, lower calorie diets decrease the intracellular signaling necessary for the synthesis of new proteins in muscle. Plus, muscle tissue may be less sensitive to protein when you're dieting. In other words, it's really tough to build muscle when dieting to lose weight. Based on these physiological changes, there's an age-old theory suggesting it's impossible to gain muscle and lose fat at the same time. However, scientists from McMaster University in Canada found it is not only possible but also, doable even when losing a substantial amount of body fat in a relatively short period of time.
Building Muscle While Losing Body Fat
In the McMaster University study, young overweight recreationally active men (prior to the study they exercised 1-2 times per week) were placed on an intense four-week diet and exercise program. Their diet contained 40% fewer calories each day than needed for weight maintenance. All meals were prepared and provided to participants during the study. The men were randomly selected for one of two diet groups:
 
Higher Protein Group

 

Lower Protein (Control Group)

 

Total daily calorie intake
15 calories per pound of lean body mass
15 calories per pound of lean body mass
Macronutrients
35% protein, 50% carbohydrate and 15% fat
15% protein, 50% carbohydrates, 35% fat
Total daily protein intake
1.09 grams of protein per lb. body weight (2.4 grams of protein per kg)
0.55 grams of protein per lb. bodyweight (1.2 grams of protein per kg) – 2x the RDA (0.8 g/kg) for protein

Per meal protein intake
0.22 grams of protein per lb. of body weight

0.10 grams of protein per lb. of body weight

Dairy shakes
3- 4 / day including one after exercise (depending on body weight; higher protein, lower carbohydrate shakes compared to the Lower Protein Group)

3- 4 / day including one after exercise (depending on body weight; lower protein, higher carbohydrate shakes compared to the Higher Protein Group)

 
Training Program
Supervised workouts consisted of full-body resistance circuit training twice per week and high intensity interval training six days per week. In addition to their structured exercise program, all participants were instructed to get at least 10,000 steps per day as monitored by a pedometer worn on their hip.
Resistance Training Circuit
2 times per week
3 sets of 10 reps at 80% 1 RM with the last set of each exercise to failure
No rest between sets
1-minute rest between each circuit
Sprint Interval Training
1 time per week
Four to eight 30-second bouts on a stationary bike (participants started with four sets and progressed to eight sets)
4 minutes rest between bouts
Modified High Intensity Interval Training
1 time per week
10 bouts of all-out sprint for one minute at 90% VO2max
1-minute rest intervals at 50% VO2max
Time Trial
1 time per week as fast as possible until approximately 250 calories were burned
Plyometric bodyweight circuit
30-second rest between exercises
Results
Both the lower protein and higher protein groups lost weight with no significant difference between groups. Men in the higher protein group gained 2.64 lbs. of muscle and lost 10.56 lbs. of body fat while men in the control group gained little muscle (0.22 lbs.) and lost 7.7 lbs. of fat. Both groups improved all but one measure of strength in addition to aerobic and anaerobic capacity. There were no differences between groups in strength, power, aerobic fitness or performance at the end of the study.
In this study, a higher protein, reduced calorie diet combined with a high intensity circuit-training program including interval training and sprints helped participants build muscle. In addition to their total protein intake, participants in the higher protein group also consumed more protein per meal (approximately 49 grams per meal) than those in the lower protein group (approximately 22 grams per meal).
Why Didn't They Cut Carbohydrates?
Low carbohydrate diets are not only popular, but they may lead to greater weight loss (in overweight and obese individuals), initially, than higher carbohydrate, low fat diets (some of this is water weight). However, when giving up carbohydrates you also sacrifice something else, intense training. Carbohydrates are the primary source of fuel used during high-intensity exercise because your body can readily access and utilize them for energy. Fat is a slow source of energy and therefore, your body cannot access and use fat quickly enough to sustain high intensity training. In this study, both groups of participants consumed 50% of their calorie intake from carbohydrate. If the study authors cut carbohydrates, the participants wouldn't make it through their high intensity training program that was specifically designed to take off fat and increase muscle mass.
Keeping the Weight Off
Consider a program like the one used in this study a short-term jumpstart. It isn't sustainable over a long period of time. The transition to a longer-term approach after weight loss should include a gradual increase in calorie intake while maintaining a higher protein diet (at least 0.55 grams of protein per lb. of body weight to maintain muscle while considerably more, along the lines of 1.09 – 1.41 grams of protein per lb. of body weight may be necessary to continue building muscle during periods of reduced calorie intake). This gradual increase in calorie intake is important because substantial weight loss results in a slower metabolism even if you maintain or build muscle during your jumpstart weight loss program. It isn't entirely clear why this happens and the drop is greater than scientists can predict based on a decrease in muscle mass. Even if you build some muscle, this won't rev fire up your metabolism to make up for a drastic decrease in body weight.
One pound of muscle burns a measly 5.9 calories per day at rest while a pound of fat burns 2 calories per day at rest.
Greater weight lost while dieting means an even greater drop in metabolism – something dieters must account for so they can maintain their new weight.
In addition to slowly increasing calorie intake and consuming a higher protein diet, each meal should contain at least 25 – 30 grams of protein. We don't know the exact amount of protein per meal needed to maximally stimulate muscle building.
Your exercise regimen should continue to include resistance training and you'd be wise to continually vary your training program. Be sure to move each day as well. Research shows many people naturally adjust to greater amounts of aerobic exercise by decreasing their activities of daily living. They exercise intensely at the gym and then sit the rest of the day. Circumvent this by using one of the many devices that counts steps each day. Also, consider doing more work around your house including cleaning, mowing your lawn, gardening, and washing your car. Get moving and stay moving all day long.
If you want to get rid of your love handles while building a six-pack at the same time, combine an effective resistance training and high intensity interval-training program with a reduced calorie, higher protein diet. Your diet and exercise program does not need to be as rigorous as the one in this study. Instead, you can adjust the McMaster University approach to fit your lifestyle, though your results may take more time. Once you reach your goal weight, slowly transition your training program and diet to an approach you can live with.
References
Weinheimer EM, Sands LP, Campbell WW. A systematic review of the separate and combined effects of energy restriction and exercise on fat free mass in middle-aged and older adults: implications for sarcopenic obesity. Nutr Rev 2010;68:375–88.
Stiegler P, Cunliffe A. The role of diet and exercise for the maintenance of fat-free mass and resting metabolic rate during weight loss. Sports Med 2006;36(3):239-62.
Heymsfield SB, Gonzalez MCC, Shen W, Redman L, Thomas D. Weight Loss Composition is One-Fourth Fat-Free Mass: A Critical Review and Critique of This Widely Cited Rule. Obes Rev 2014; 15(4):310–321.
Deurenberg P, Weststrate JA, Hautvast JG. Changes in fat-free mass during weight loss measured by bioelectrical impedance and by densitometry. Am J Clin Nutr 1989;49(1):33-6.
Johannsen DL, Knuth ND, Huizenga R, Rood JC, Ravussin E, Hall KD. Metabolic Slowing with Massive Weight Loss despite Preservation of Fat-Free Mass. J Clin Endocrinol Metab 2012; 97(7): 2489–2496.
Ravussin E, Bogardus C. Review Relationship of genetics, age, and physical fitness to daily energy expenditure and fuel utilization. Am J Clin Nutr 1989; 49(5 Suppl):968-75.
Phillips SM. A Brief Review of Higher Dietary Protein Diets in Weight Loss: A Focus on Athletes. Sports Med 2014; 44(Suppl 2): 149–153.
Longland T, Oikawa SY, Mitchell CJ, Devries MC, Phillips S. Higher compared with lower dietary protein during an energy deficit combined with intense exercise promotes greater lean mass gain and fat mass loss: a randomized trial. Am J Clin Nutr 2016;103:738-46.
Heydari M, Freund J, Boutcher SH. The effect of high-intensity intermittent exercise on body composition of overweight young males. J Obes 2012;2012:480467.
Areta JL, Burke LM, Camera DM, West DW, Crawshay S, Moore DR,Stellingwerff T, Phillips SM, Hawley JA, Coffey VG. Reduced resting skeletal muscle protein synthesis is rescued by resistance exercise and protein ingestion following short-term energy deficit. Am J Physiol Endocrinol Metab 2014;306:E989–97.
Pasiakos SM, Vislocky LM, Carbone JW, Altieri N, Konopelski K, Freake HC, Anderson JM, Ferrando AA, Wolfe RR, Rodriguez NR. Acute energy deprivation affects skeletal muscle protein synthesis and associated intracellular signaling proteins in physically active adults. J Nutr 2010;140:745–51.
Hector AJ, Marcotte GR, Churchward-Venne TA, Murphy CH, Breen, von AM, Baker SK, Phillips SM. Whey protein supplementation preserves postprandial myofibrillar protein synthesis during short-term energy restriction in overweight and obese adults. J Nutr 2015;145:246–52.
Murphy CH, Churchward-Venne TA, Mitchell CJ, Kolar NM, KassisA, Karagounis LG, Burke LM, Hawley JA, Phillips SM. Hypoenergetic diet-induced reductions in myofibrillar protein synthesis are restored with resistance training and balanced daily protein ingestion in older men. Am J Physiol Endocrinol Metab 2015;308:E734–43.
Chaston TB, Dixon JB, O'Brien PE. Changes in fat-free mass during significant weight loss: a systematic review. Int J Obes (Lond) 2007; 31(5):743-50.
Garthe I, Raastad T, Refsnes PE, Koivisto A, Sundgot-Borgen J. Effect of two different weight-loss rates on body composition and strength and power-related performance in elite athletes. Int J Sport Nutr Exerc Metab 2011; 21(2):97-104.
Churchward-Venne TA, Murphy CH, Longland TM, Phillips SM. Role of protein and amino acids in promoting lean mass accretion with resistance exercise and attenuating lean mass loss during energy deficit in humans. Amino Acids 2013; 45(2):231-40.
Helms ER, Zinn C, Rowlands DS, Brown SR. A systematic review of dietary protein during caloric restriction in resistance trained lean athletes: a case for higher intakes. Int J Sport Nutr Exerc Metab 2014; 24(2):127-38.