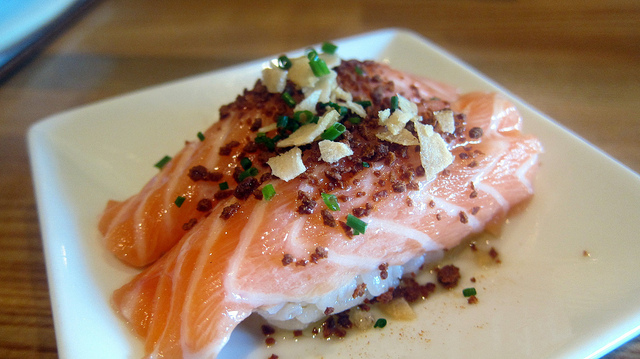 By Collier Perno
If you're among the 60% of Americans with elevated blood pressure I'm sure you've heard your doctors say these things: "lower your sodium intake," "increase your physical activity," and "decrease your alcohol consumption." While these are all great recommendations, new research has shows there is an alternative treatment that may be even better at lowering blood pressure: the omega-3 fatty acids eicosapentaenoic acid (EPA) and decosahexaenoic acid (DHA)4.
Omega-3 fatty acids are an essential (the human body can't make them) polyunsaturated fat. There are three main types of omega-3s, EPA, DHA and alpha linolenic acid (ALA). EPA and DHA are found in cold-water fish, fish oil, and algae and are crucial for brain development, reducing inflammation, protecting structural cell integrity, and they may help decrease muscle soreness in athletes1.
In March of 2014, the American Journal of Hypertension released a comprehensive meta analysis (a statistical method for combining the results of several studies) that examined 70 randomized controlled trials studying the effect EPA and DHA on blood pressure (BP). Participants were adults with normal BP and adults with high blood pressure who were not taking BP lowering medications. Subjects were given EPA and DHA omega-3s in the form of seafood, fortified foods, or dietary supplements. The results of the study showed a decrease in both systolic and diastolic BP in all adults. The most significant effects were found in those with existing high BP. There was an average 4.51 mm Hg decrease in systolic blood pressure (SBP) and diastolic blood pressure (DBP) was reduced by an average 3.05 mm Hg4.
The analysis also compared common lifestyle recommendations and their effects on BP to EPA and DHA omega-3 fatty acids effects on BP. The findings were astonishing. When looking at SBP (the top number – this reflects the pressure in your arteries when your heart beats), consumption of EPA and DHA omega-3 had an average decrease of 4.51 mm Hg, while reduced dietary sodium had an average reduction of 3.6 mm Hg, and decreased alcohol consumption had an average 3.8 mm Hg decrease. The only lifestyle recommendation shown to have a greater decrease in SBP was increased physical activity, which lowered SBP by 4.6 mmHg.
Still not sold on the benefits of consuming omega-3? There's more! Over the past two decades, some research has linked the consumption of omega-3 fish oils to a reduced risk of cardiovascular disease. Heart disease is the leading cause of death in the U.S. killing about 600,000 Americans each year (that's 1 in every 4 deaths)2. As previously discussed, omega-3s reduce BP levels (a major risk factor for heart disease) and lower triglyceride levels. A study published in the Journal of American Medical Association concluded consumption of omega-3 fatty acids creates a significant cardioprotective effect in non-hypertensive individuals3.
How do I get my omega-3 fatty acids?
The American Heart Association recommends eating fish at least twice a week to increase omega-3 dietary intake
Fatty fish such as mackerel, lake trout, sardines, herring, albacore tuna, and salmon are all great sources of omega 3 fatty acids
Eating walnuts, flax seeds, soy beans, kidney beans, and tofu are other great ways to increase your omega 3 consumption. These provide Alpha- Linoleic Acid (ALA) form of omega 3s.
When looking for omega 3 supplements choose nordic naturals or any supplement that is USP certified. Costco's Kirkland brand is a great option!
Omega-3 fatty acids | University of Maryland Medical Center. Omega-3 Fat. Acids. Available at: http://umm.edu/health/medical/altmed/supplement/omega3-fatty-acids. Accessed November 12, 2014.
CDC – DHDSP – Heart Disease Facts. Am. Heart Dis. Facts. Available at: http://www.cdc.gov/heartdisease/facts.htm. Accessed November 12, 2014.
Key Messages for JAMA/Annals of Internal Medicine Studies. Journal of American Medical Association. Accessed November 12, 2014.
Cid, Martha. Omega-3s Can Significantly Reduce Blood Pressure, Study Finds.     Global Organization for EPA and DHA Omega-3s. Accessed November 12,20