If you are totally against low-fat dairy, it's time to take a closer look at the research. After listening to this dairy debate and watching the finger pointing, I started searching through the literature for an answer to this question "does dairy fat increase LDL cholesterol and risk for cardiovascular disease?" Then I came to my senses. No one eats dairy fat. Unless you're a food scientist, you aren't separating the fat from milk or full-fat yogurt and eating it or adding it as an ingredient to your recipes. However, we do eat cheese and yogurt and drink milk. The array of compounds in each of these foods influences how they affect your cholesterol and risk for heart disease. So, I revised the question to: "how does full fat cheese, yogurt and milk impact cholesterol and risk for heart disease?"
Here's what I'll cover in this article:
Why people are up in arms about saturated fat – saying it is either good or bad;
How does full fat cheese, yogurt and milk impact cholesterol;
What should you do with this information?
Dairy Fat isn't the Only Factor
The research on dairy generally follows the research on saturated fat: the replacement strategy matters. For instance, it isn't a good idea to take cheese out of your diet and replace it with a highly refined carbohydrate (not a good move for blood fats). Butter isn't better than liquid oil. Butter raises LDL cholesterol. Some research suggests dairy fat might raise the large, less artery clogging LDL cholesterol compared to small dense LDL. However, "less artery clogging" does not mean "not artery clogging" and this area of the science needs more work before we can draw firm conclusions. Also, there are a few differences based on the type of food (milk, cheese, yogurt, butter); aged cheese reigns.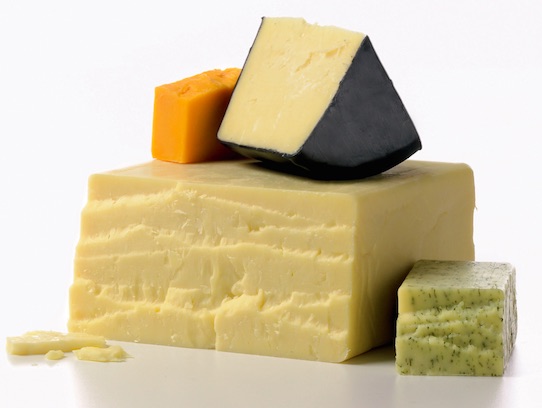 -> Aged cheese does not raise LDL as much as butter (accounting for total fat in each). In fact, several studies show aged cheese appears to have a "relatively minor" impact on LDL cholesterol or no impact at all. This could be due to the calcium content, which leads to the excretion of some fat or, fermentation may have an effect. Aged cheese stands out in the research.
-> Yogurt appears to have less of a cholesterol raising effect than expected. However this research is inconsistent possibly due to differences in the type of bacteria in the yogurt (aka probiotics). I recommend choosing yogurt with "live and active cultures."
– > Milk – when consuming the same amount of fat from whole milk or butter, both raise LDL to the same extent. Milk contributes substantially less total fat per amount consumed compared to full fat yogurt and butter. Cross-sectional studies suggest milk consumption doesn't raise coronary artery disease risk, however, this may reflect lower total fat intake from milk compared to butter.
-> Cottage cheese –  this incredible food is oftentimes forgotten yet an excellent addition to your diet. I couldn't find any studies on cottage cheese, however, the highest fat cottage cheese I could find  (4% milk fat) contained 5 g total fat per serving so we can expect the impact cottage cheese may have a lower impact compared to whole milk.
What Should You Do with this Information?
If your LDL is high, choose skim, 1% or low fat milk. Opt for a good quality yogurt with naturally occurring probiotics. As far as cheese goes – I'd take out all of the other offending foods and work on other aspects of heart health before ditching the cheese (unless your LDL is very high) and cottage cheese. However, always follow the dietary advice of your registered dietitian since there are many variables that should be taken into consideration.
What about the trans fats in dairy? They are good for you right? No. In large amounts, the trans fats in dairy have the same impact as those found in partially hydrogenated oil (not good for cholesterol, cardiovascular disease risk etc.). However, we don't eat dairy trans fats in significant quantities (they make up very tiny amounts of dairy fat and beef fat).
Take Home Points
In general, dairy foods help lower blood pressure plus there is emerging evidence about the positive role dairy foods may play in metabolic syndrome. What about dairy fat? Consider the whole food and your diet overall so you can make the right choices based on your personal risk factors for cardiovascular disease. Also, keep in mind there are many factors that influence cardiovascular disease pathology, some of which are unrelated to cholesterol.
References
Tholstrup T, Hoy CE, Andersen LN, Christensen RD, Sandstrom B. Does fat in milk, butter and cheese affect blood lipids and cholesterol differently? J Am Coll Nutr 2004;23:169–76.
Hjerpsted J, Leedo E, Tholstrup T. Cheese intake in large amounts lowers LDL-cholesterol concentrations compared with butter intake of equal fat content. Am J Clin Nutr 2011;94:1479–84.
Biong AS, Muller H, Seljeflot I, Veierod MB, Pedersen JI. A comparison of the effects of cheese and butter on serum lipids, haemostatic variables and homocysteine. Br J Nutr 2004;92:791–7.
Nestel P. Effects of Dairy Fats within Different Foods on Plasma Lipids. J Am Coll Clin Nutr 2008, 27(6): 735S–740S.
Thorning TK et al. Diets with high-fat cheese, high-fat meat, or carbohydrate on cardiovascular risk markers in overweight postmenopausal women: a randomized crossover trial. Am J Clin Nutr 2015.
Labonté MÈ et al. Dairy product consumption has no impact on biomarkers of inflammation among men and women with low-grade systemic inflammation. J Nutr 2014;144(11):1760-7.
Sjogren P et al. Milk-derived fatty acids are associated with a more favorable LDL particle size distribution in healthy men. J Nutr 2004;134(7):1729-35.
Hodson L, Skeaff CM, Chisholm WA. The effect of replacing dietary saturated fat with polyunsaturated or monounsaturated fat on plasma lipids in free-living young adults. Eur J Clin Nutr 2001; 55(10):908-15
Soerensen KV et al. Effect of dairy calcium from cheese and milk on fecal fat excretion, blood lipids, and appetite in young men. Am J Clin Nutr 2014;99(5):984-91.
Grebe A, Latz E. Cholesterol crystals and inflammation. Curr Rheumatol Rep 2013;15(3):313.