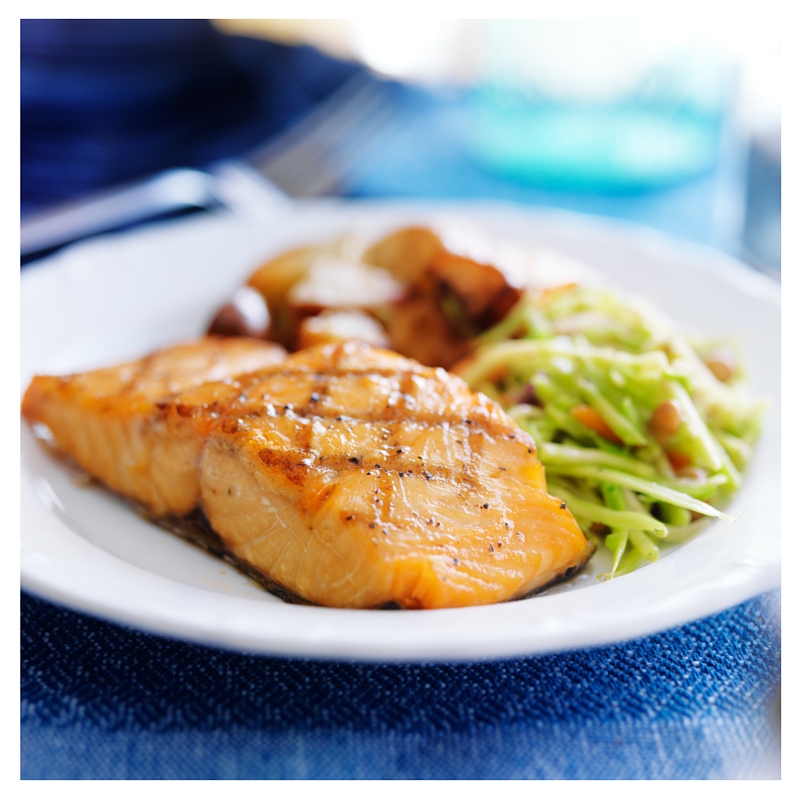 If you don't have the luxury of eating in a cafeteria with a variety of options each day, it makes sense to plan your meals ahead of time. Doing so will save you time and money. If saving money doesn't entice you, consider this: eating at home can help you lose weight. A study published in the Journal of the Academy of Nutrition and Dietetics found the average meal at 360 restaurant dinner meals examined contained 1,200 calories. If you choose to dine at an American, Italian or Chinese restaurant, that meal may cost you a whopping 1,495 calories. Don't worry, I have no intention of having you replicate the instagram photos from fitness buffs who eat perfectly portioned bland-looking chicken, broccoli and brown rice twice a day, every day. Instead, I am an advocate for taste, variety, and better nutrition. Here are the 4 steps you should take to start planning better-for-you meals ahead of time:
1 – Take Inventory
Go through your cabinets, refrigerator and freezer at least once per month and throw out anything that is past it's expiration date, freezer burned, molded, and stale or smells bad (smell your cooking oil too and if it doesn't smell normal, toss it). Half-eaten anything that is more than a day old? Trash. This is also a great time to take inventory of what you have on hand.
2 – Stock Your Kitchen
After taking inventory, decide what you need (sticking to your grocery list will save you from impulse buys you don't need after looking at your grocery store circular). Essential foods include shelf stable, refrigerator and frozen foods. I like the option of preparing a meal in 5 minutes or less. Frozen and canned items allow me to do this.
Shelf Stable:
Beans, lentils and legumes (tip: some lentils can be soaked for just 40 minutes and added to a wide variety of dishes from salads to spouse, stews and grain-based dishes)
Bread
Canned vegetables, beans, fish and chicken
Condiments including chicken, beef or vegetable broth, mustard, hot sauce and any other commonly used condiments
Cooking oil – get good quality cooking oil. Pay more for a brand you trust. Olive oil is the most adulterated food on the market so you do get what you pay for.
Nutrition bars
Nuts, nut butters and seeds (all can be refrigerated; opened nut butters should be refrigerated)
Popcorn, whole grain snacks
Protein powder
Rice, pasta, whole grains, cereals and other similar foods. Grab a few options that you can make in a just a few minutes including couscous. Also, vary your rice, pasta and whole grains – look for black, red or purple rice, bean pastas and more.
Soups (boxed, bagged or in cans)
Spices & seasonings (including salt and pepper). If you don't use these regularly get dried spices or refrigerated spices in squeezable tubes.
Ziploc bags – these will come in very handy if you travel (always pack food and supplements to go)!
Fresh:
Dairy (milk, yogurt, cheese)
Eggs (consider egg substitutes for their shelf life)
Fresh vegetables and fruits
Fish, poultry, meat
Frozen:
Fish, poultry, meat
Fruit
Vegetables
3 – Menu Planning
There are a number of ways you can approach menu planning but one of the easiest ways is to center your meals around the protein rich foods you plan on eating. So for instance, if you choose chicken, lean ground beef and fish, you can center 7 meals on those three proteins. Or, if your week is hectic and you are very busy, you can plan meals around protein-rich foods that take just minutes to prepare such as canned tuna, eggs and rotisserie chicken.
After you pick your protein rich foods, decide on recipes or quick prep meals. You might want to do this by determining what perishable foods you have on hand and need to use. So, let's say you have mushrooms in the refrigerator and chicken defrosting. If you don't feel like eating chicken Marsala but you aren't sure what else you can make with a little flavor, type these words in Google to get other meal ideas "chicken, mushrooms, recipe, quick, easy." (Also check out Cookinglight.com's "5 Ingredient Cookbook, Fresh Food Fast")
After determining which meals you are eating each day of the week, write a shopping list by figuring out any extras you may need to buy and what staple foods you are out of. Be flexible with your list depending on the season and sale prices. Shopping in season often means you will not only get the best looking produce but you will save money too. So for instance, if your recipe calls for sweet potatoes but butternut squash is a steal – go for the squash.  When you make your shopping list, you can do it on an app, in the notes section on your phone, or the old fashioned way with pen and paper. I make mine in the order of the grocery store I am shopping in so I can cross items off one by one without having to scan the entire list to make sure I'm not forgetting something before I move onto the next section of the store.
If the weekly circular tempts you with sugary cereals, cookies and candies on sale, don't pick it up. You won't miss out on a bargain because you'll figure out which healthy foods are on sale when you look for the items on your list – all stores flag these items for you.
Quick sample meal ideas:
Rotisserie chicken, 10 minute brown rice (or thawed and microwave brown rice from your freezer), frozen veggies
Rotisserie chicken wraps with hummus (spread the hummus on first) and any crunch veggies you desire (shopped carrots, cucumbers etc.)
Whole-wheat pasta, spaghetti sauce and frozen turkey meatballs with added veggies such as cooked (or steamed) mushrooms, squash, zucchini
Whole wheat pasta, canned tuna, light cream of mushroom soup (either made into a casserole and baked along with frozen peas, ½ cup milk and chopped onions at 400ºF for 20 minutes or you can heat up the soup and mix the ingredients together and eat it.
Canned tuna, light mayo, chopped celery and onions for a tuna sandwich.
Grilled salmon drizzled with lemon, asparagus and a sweet potato.
4 – Storing and Packing
You can freeze almost any food and reheat it easily. Even brown rice – just cook it, let it cool completely and portion it into zip-loc bags (make sure no air is in the bag) for later. Two important things to remember when freezing foods – freeze them in airtight containers and label them so you know what you made and when it was frozen. The longer you leave food in the freezer the greater the likelihood of texture and taste changes over time (sometimes resulting in freezer burn). Foods that freeze well include:
Breads
Canned foods (once out of the can of course)
Casseroles (keep in mind that mayonnaise and other cream sauces do not freeze well)
Egg whites (raw)
Grains, cooked
Granola (homemade or store bought)
Herbs, fresh
Nuts, seeds (these should not be kept opened on shelves for long periods of time as they can go rancid)
Cheese – some types freeze better than others
Fish, poultry, meat (raw meat and poultry freezes better than cooked meat and poultry because of moisture lost during cooking).
Fruit, though this must be completely dry and frozen in portions (unless you want it stuck together in big clumps). The texture may change so fresh fruit that is frozen may be best used when blended in shakes.
Sauces
Soups, stews, stock
Yogurt – if you want to eat it frozen. If it defrosts the consistency isn't so great.
Thaw food in the refrigerator, a microwave or immersed in cold water only (in a leak proof plastic bag submerged in the water that should be changed every 30 minutes), not out on countertops or in kitchen sinks.
Recommended Freezer Storage Time (for quality only, frozen food is safe indefinitely if left frozen).
| | |
| --- | --- |
| Food | Months |
| Bacon and Sausage | 1 – 2 |
| Casseroles | 2 – 3 |
| Egg whites or egg substitutes | 12 |
| Frozen dinners | 3 – 4 |
| Ham, hotdogs, lunchmeats | 1 – 2 |
| Meat, uncooked roasts | 4 – 12 |
| Meat, uncooked steaks or chops | 4 – 12 |
| Meat, uncooked ground | 3 – 4 |
| Meat, cooked | 2 – 3 |
| Poultry, uncooked whole | 12 |
| Poultry, uncooked parts | 9 |
| Poultry, cooked | 4 |
| Soups and stews | 2 – 3 |
| Wild game, uncooked | 8 – 12 |
See, that wasn't so tough! Get started planning, preparing and cooking right away. If there are a limited number of dishes you feel comfortable cooking, check out quick and easy cookbooks or resources on line. Each time you try a new recipe you'll expand your horizons and taste buds and also be able to prepare a wider variety of meals on the fly in the future.
References
USDA. Freezing and Food Safety. http://www.fsis.usda.gov/factsheets/focus_on_freezing/