If visions of mistreated animals injected with a continuous supply of hormones and antibiotics leave you feeling confused and terrified about your food choices—this post is for you. I'm cutting through many myths about how pork is produced, so you can rest assured you are making the right choices. For this post I interviewed Wanda Patsche, a pig farmer from Minnesota.
Aren't big farms owned by big agriculture companies?
Wanda: Family farmers own 97% of pig farms. Some farms are big some are small.
What are the greatest misperceptions consumers have about pigs?
Wanda: Many people think modern farms are less humane compared to small farms; niche farms, pasture raised. Actually, the opposite is true. With modern farms barns are designed so you can handle the pigs better; pigs have a social hierarchy where they fight with each other. Modern farms are specifically created to easily control this fighting by having pigs in individual pens. This means less stress for the pigs, plus the buildings are temperature controlled with fresh air. Pigs are given clean water and clean feed. The barns are pressure washed and sanitized between groups of pigs (when pigs move out and prior to new pigs coming in). Plus, pig farmers work closely with their veterinarians. Farms that have more pigs mean the famers continually grind feed because they have more mouths to feed. Continually grinding feed means the pigs get fresh feed. Their diets are designed for health and growth.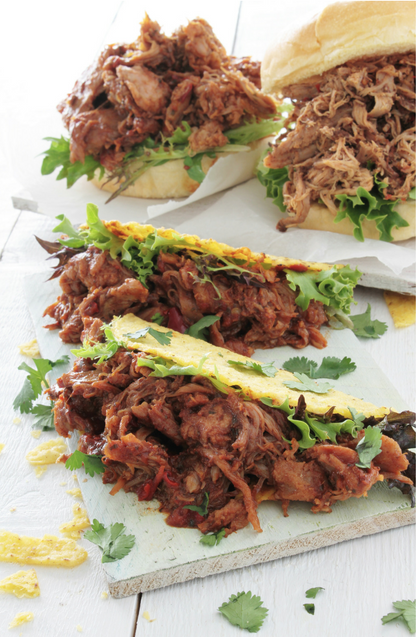 Is hormone-free pork better?
Wanda: No pigs are given hormones. Farmers are not allowed to give pigs hormones. Therefore, any pork labeled "hormone-free" has been given this label to try and make customers think it is better than other pork. However, there is no difference, all pork is free from added hormones.
Are there any antibiotics in my pork?
Wanda: Antibiotic-free is another labeling term to try to persuade customers to choose chose a specific pork product. All meat is free of antibiotics. If a pig is given an antibiotic, all traces of the antibiotic must leave the body—called the withdrawal period—before the pig is sent to off for pork production.
What do you think is driving these perceptions?
Wanda: In the U.S., less than 2% of people are farmers. Many people don't know farmers, and they are 2 – 4 generations removed from farmers. If you've never been to a farm or know people who farm it is easier to believe the myths that circulate on the internet.
Tell us a little more about advances in pork production and the safeguards in place to ensure pork is safe.
Wanda: Forty years ago, pigs were all outside. They had clean air but many hazards including sunburn and the greater likelihood of getting worms (and therefore the vets would have to treat them with medicine for worms). Now, with the introduction of indoor facilities and individual pins, pigs are less stressed which keeps them healthier. Stress = greater likelihood of sickness.
In addition, antibiotics are used less, and there is a comprehensive vaccination program in place to keep pigs healthy. On farms that do not use antibiotics to treat animals when sick, the animals must be pulled away from the other pigs to prevent the illness from spreading.
Animal scientists are currently conducting studies examining ways to keep animals healthy including the use of essential oils, probiotics, and enzymes. Healthier pigs mean even fewer antibiotics are used.
Antibiotics are the last resort and only used when necessary.
Pigs are grouped together based on age. This is helpful as immune system functioning differs by age. This is just another step to keep pigs as healthy as possible.
Aren't farms more concerned about quantity vs. quality?
Wanda: No. Every day I wake up and think, "what can I do to ensure my pigs are as healthy as possible?" Pig farmers get more money for higher quality meat. So, every pig farmer has an added incentive to produce healthy, high quality pigs. Lower quality pork goes to a secondary market for ground pork, pepperoni and similar process products. Farmers get considerably less money for lower quality pork.
Are there any concerns that consumers should have about pork?
Wanda: The biggest concern for consumers is how pork is handled and cooked. According to the USDA pork should be cooked to 145°F internally. Ground pork should be cooked to 160°F. It can be pink in the middle as long as these internal temperatures are reached.
What are the best cuts of pork?
Wanda: pork is 16% leaner than it was 20 years ago due to the way animals are fed and genetics. Pork tenderloin is just as lean as chicken breast. An easy way to remember this: loin = lean.
This post was sponsored by USFRA, all views are mine and Wanda's.