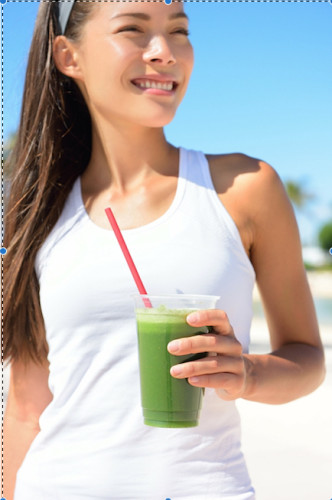 Detox diets promise to clean up the mess left behind from daily life so you feel better, more energetic and lose excess body fat. Consider them the Merry Maids for your body. They come with an army of equipment and compounds to attack years of buildup from environmental toxins, pesticides, allergens, waste, and inflammatory substances. This "sewage sludge" is stuck to your gut, interfering with digestion, leaving you bloated, tired, fat and with joints and muscles that feel like they are on fire.
In theory this sounds great. But there's one glaring issue. The human body doesn't need to "detox" because it comes equipped with organs designed to remove waste products. Plus, many detox diets are simply very low calorie plans with added laxatives and diuretics (because instant, yet temporary, weight loss might fool you into believing the outrageous claims on detox and cleansing products). Instead of wasting your money, take the top 3 good points about many of these diets and incorporate them into your overall nutrition plan:
Drink More Water
There are a few studies showing that individuals who are obese can lose weight by drinking 2 glasses of water before each meal. Plus, many people don't get enough water or total fluids each day anyway and dehydration can make you feel sluggish and grouchy. So, grab it from the tap or if it's more convenient, fill up your stainless steal water bottles and carry them with you at all times.
Eat More Fruits and Vegetables
The average American is falling short on fruit and vegetable intake. According to the National Cancer Institute, people with diets rich in plant foods, such as fruits and vegetables, have a lower risk of getting some types of cancer as well as diabetes, heart disease and high blood pressure. Produce generally has fewer calories than many other foods making it a great addition to a weight loss diet.
Get Friendly with Bacteria
Many detox plans include unfiltered apple cider vinegar – the kind that has a cloudy appearance – is full of probiotics. Probiotics are friendly (beneficial) bacteria – the kind that live in your gut and have a number of important functions in your body. Improving your gut bacteria may support immune functioning, improve the health of your intestinal tract, increase your body's absorption of certain nutrients and alleviate constipation. Apple cider vinegar is acidic so I don't recommend drinking it straight. Instead, dilute it in a big glass of water or another beverage. Other great sources of probiotics include kefir, yogurt (check the container for "live and active cultures"), miso soup, tempeh, sauerkraut, kimchi.
Add 2 glasses of water before each meal, load up on vegetables and fruits and make an effort to consume probiotic-rich food daily and you will reap the rewards of better nutrition without wasting money on detox diets and cleanses.
References:
Parvez J et al. J Appl Microbio 2006;100(6):1171-1185.
Parretti HM et al. Obesity 2015, 23(8):1785-1791.
Dennis EA et al. Obesity 2010;18(2):300-307.