Every single weight loss diet works, if you follow it. All diets help you eat fewer calories so you lose weight. So how do you choose one that is right for you? Ignore the hype from your friend who lost 20 pounds. There is no one "best" diet. Pick one you can stay on.
Research shows the #1 factor that determines weight loss success and keeping the weight off: sticking to the plan.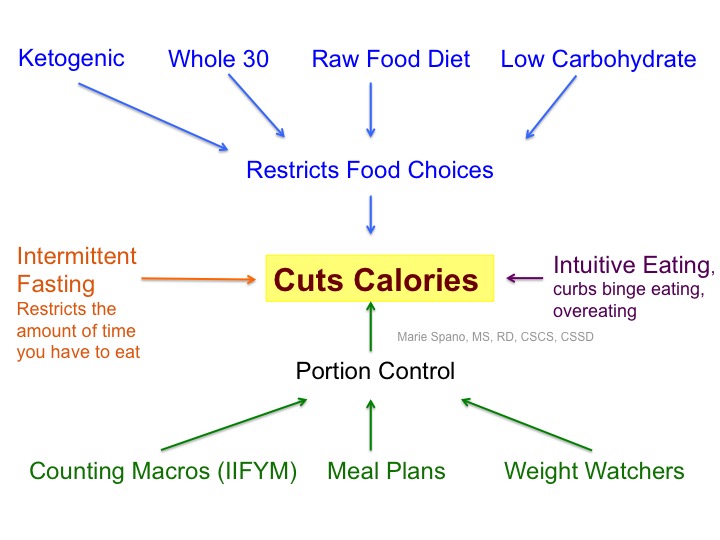 While cutting calories is the key, some diets aren't nutritionally sound or socially convenient. Over the next few days I will explore the pluses and minuses of popular diets and help you examine if you really need to be on a diet. In the meantime, here's a brief lowdown on each:
They are a one-size-fits-all cookie cutter approach. Getting your clothes tailored ensures the best fit. Likewise, tailoring a diet to suit your needs ensures it will better suit you. After all, cookie cutters are good for one thing only, cutting cookies.
Elimination diets take decision making out of the equation.  Making decisions is emotionally draining. The ketogenic diet, Whole 30, raw food diet, and low carbohydrate diet are "eat this, not that" approaches. The decision is either yes or no. There's no measuring, counting or weighing. There's no split second indecision wondering if you can have just a small piece of cake and walk away.
Counting keeps you accountable.  Weight Watchers, myfitnesspal (and other apps), meal plans and IIFYM (if it fits your macros) all involve counting. Though calorie counting is not 100% precise (more on this later this week), counting keeps a person accountable. After all, you can't claim your metabolism is slow when your food log shows 2 hotdogs, bags of chips and beer.
All diets require some effort. After all, you can't keep doing what you are doing now and expect different results. The key is finding the one that is easiest for you. Stay tuned….