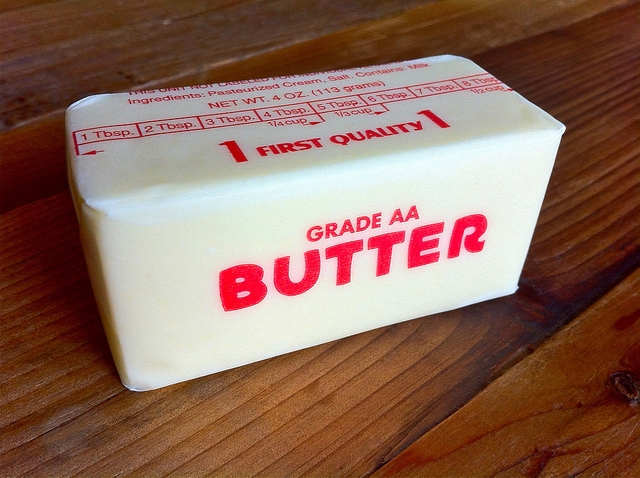 If you are more confused than ever about dietary fats, you're not alone. Can a high fat diet help you lose body fat? Which fat is best for heart health – butter, coconut oil or vegetable oil?
What is Cholesterol & Why is it Essential?
Cholesterol is an essential component of all cell membranes and a precursor to hormones, vitamin D and bile acids (needed for the digestion of fat). It is so important that your body regulates cholesterol balance to ensure your cells receive a continuous supply of cholesterol.
How does High LDL Contribute to Cardiovascular Disease?
Though cholesterol is critical for life, low density lipoprotein cholesterol, LDL cholesterol, is considered a risk factor for heart disease because excess LDL can lead to an increase in plaque buildup in your arteries. Think of this process like a garden hose with gunk stuck in it. The gunk interferes with water flowing through the hose. If too much debris gets in there, no water will flow through.  Likewise, plaque in your arteries will decrease the amount of blood that moves through your arteries at one time and a complete blockage could lead to a heart attack or stroke.  Now, this is a simplistic view, especially considering LDL isn't just one particle but instead, several that contain different amounts of cholesterol. Some research suggests that smaller, more dense LDL particles are more artery clogging. However, in addition to particle size, total number of LDL particles and oxidation of LDL contribute to the disease process.
As LDL particles travel through the bloodstream, excess LDL particles can stick to artery walls (particularly walls that are damaged due to smoking, high blood pressure and other insults). Trapped LDL becomes oxidized and sets off an inflammatory cascade resulting in the development of plaque (gunk) stuck to arteries – atherosclerosis.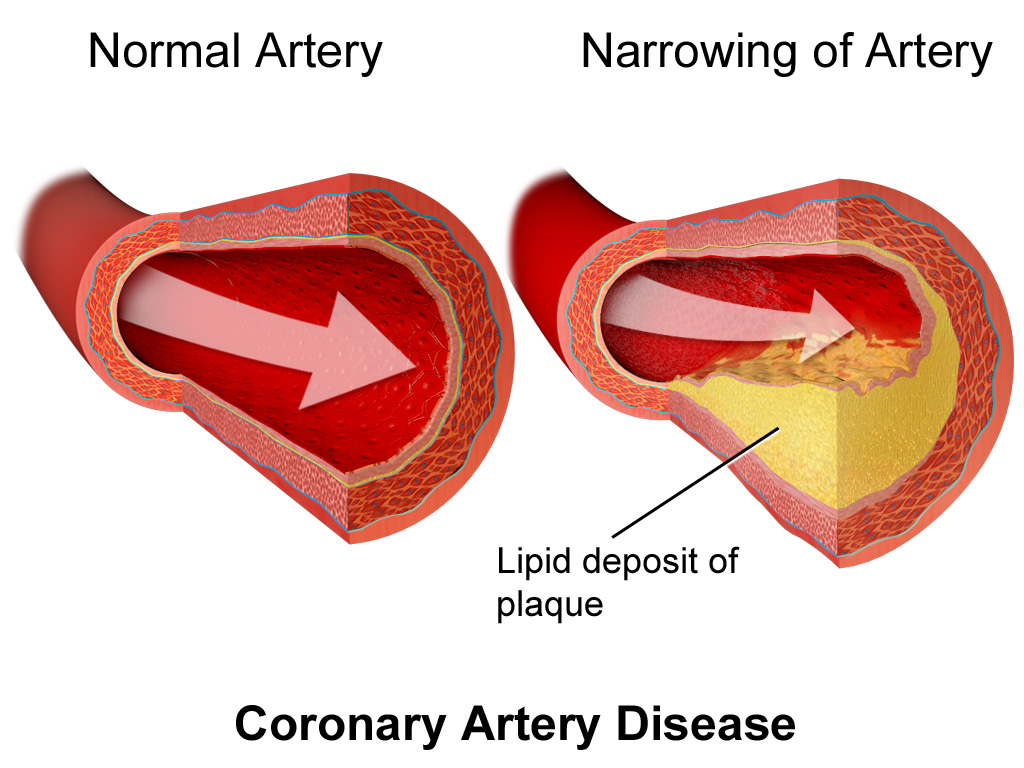 How Can I Lower my LDL Cholesterol?
Cholesterol in food has little effect on your blood cholesterol.
Years ago we were told to stay away from shrimp, eggs and other high cholesterol foods. Yet this advice wasn't based on sound science – cholesterol in food has little effect on your blood cholesterol levels. So there is no need to take these nutrient-rich foods out of your diet. Shrimp is loaded with protein, and is a good source of iron plus it contains just 80 calories per serving. Eggs are also packed with nutrition – the whites are an excellent source of protein and the yellow color you see in the yolk is from antioxidants – plant compounds that protect plants from disease and protect your body from the damaging effects of free radicals, compounds that are essential but can cause damage as well.
Coconut Oil, Butter and Other Solid Fats are Not the Best Options
Man-made trans fats (partially hydrogenated oils) are the worst kind of fat you can eat. However, they should, finally, be making their way out of our food supply over the next few years. High levels of *saturated fat, the kind that is solid at room temperature like butter, increases HDL (the "good" cholesterol but not a target of therapy – doctors don't focus on HDL levels because increasing HDL does not lower heart disease risk) and LDL cholesterol in the blood. In controlled diet experiments where saturated fat is replaced with polyunsaturated fat rich vegetable oils, risk of heart disease is reduced. Replacing saturated fat with monounsaturated fat, the kind found in olive oil, also lowers LDL but not to the extent that polyunsaturated fat does.
Coconut oil is popular and calorie for calorie it might be better for weight management than other fats. However, coconut oil raises our total, good and bad cholesterol levels. And therefore, it is not the best option for heart health.
Excess Carbohydrate Intake can Increase LDL
Overconsumption of carbohydrate-rich foods can also increase VLDL cholesterol (very low density lipoprotein). Foods with added sugars, in particular, are potent stimulators of VLDL production when the energy (calories) aren't needed right away for energy or increasing glycogen stores (stored carbohydrate in your liver and muscle).
Best Fats for Your Heart
Nuts, seeds, avocados, olives and liquid oils are your bets for heart health. Oils with more polyunsaturated fat have a greater impact on LDL cholesterol than those rich in monounsaturated fat. Make sure you are choosing the right oil for the right cooking application. Many oils can't stand high heat and they break down, damaging the structure (and function) of the oil.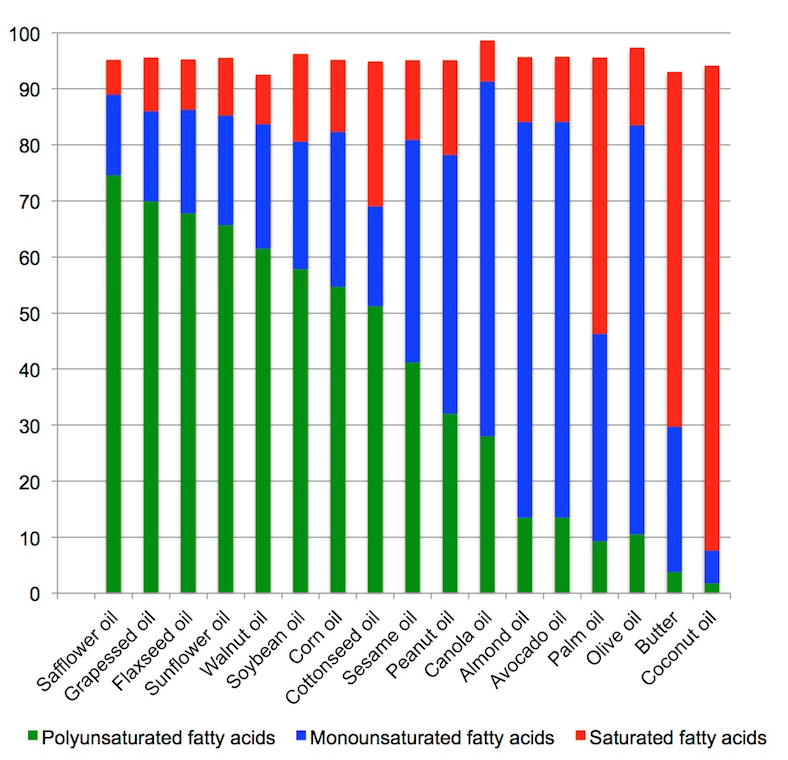 Conclusion
Many factors contribute to high blood cholesterol levels, including genetics, overweight/obesity, inactivity, smoking, diabetes and age, making cholesterol management a multifactorial issue. Saturated fat increases LDL cholesterol but, as I'll say over and over, we are all different and, people vary in their response to dietary saturated fat due to intrinsic differences in fat metabolism as well as other factors including obesity, insulin resistance and high triglycerides.
Replace fats that raise cholesterol with liquid oils, nuts, seeds, avocados, and olives. Consider your overall diet as well. Eat a plant-based diet including vegetables (non-starchy veggies as well as beans, lentils and peas), fruits, nuts, seeds and whole grains (oats, barley etc.). Consume fatty fish ( salmon, mackerel, herring, halibut, sardines etc.) at least two times per week. Limit your intake of foods with added sugars and refined starches as well as your alcohol consumption. 
* There are differences in specific saturated fatty acids and their effects on blood cholesterol. Therefore, some foods high in saturated fat do not raise LDL cholesterol. Also, oils have a different array of vitamins (primarily vitamin E) and plant-based compounds that may be beneficial for heart health.
Fatty acids composition of oils taken from the USDA Nutrient Database.