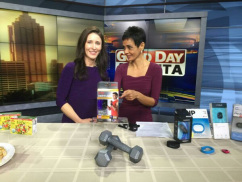 Marie A. Spano, MS, RD, CSCS, CSSD, is one of the country's leading sports nutritionists. She is the previous major league sports nutritionist for the Atlanta Braves (2017 – 2022; World Series Champions 2021), Atlanta Falcons (2017 – 2020), Atlanta Hawks (2009 – 2020), Atlanta Braves minor leagues (2012 – 2014), former Atlanta Thrashers (prior to their move to Canada) and Blackzillians (MMA). Spano also consulted with the Chicago Cubs.
Spano is known for solving complex problems from severe muscle cramping to gastrointestinal pain and keeping players on the field, court or ice. She treats each player as an individual and will find solutions that fit their needs and lifestyle. Spano is an expert in sweat testing, hydration and muscle cramping, sports supplements, nutrition planning for athletic performance, food sensitivities, body composition and anthropometry (ISAK Level 2; DEXA), biomarkers for performance, FODMAPs for management of IBS. She can take difficult topics such as keto and B12 absorption and break them down for an athlete so they are easy to understand. Spano talks in each athlete's language based on their sport specific goals by communicating how every aspect of nutrition, hydration and supplements will affect their game.
Spano is the lead author of the textbook Nutrition for Sport, Exercise and Health (Human Kinetics 2017) and author of several book chapters on sports performance for the NSCA (National Strength and Conditioning Association) and Human Kinetics. She is a regular speaker at conferences educating strength coaches, sports dietitians, and athletic trainers on a variety of sports nutrition topics.
Spano enjoys the challenge of communicating scientific information in an approachable, understandable format to a variety of audiences. She has appeared on CNN as well as NBC, ABC, Fox and CBS affiliates, and authored hundreds of magazine and trade publication articles on a variety of topics ranging from novel food ingredients to optimal sports performance recovery foods.
A three-sport collegiate athlete, Spano earned her masters in nutrition from the University of Georgia and her bachelor's degree in exercise and sports science from the University of North Carolina, Greensboro (UNCG), where she also ran Division I cross-country. Her experiences as a college athlete provides effective perspective to work with athletes of all levels, especially student athletes, by providing a first-hand understanding of how the demands of athletics, psychological aspects of injury, and sleep, recovery, and sound nutrition can impact an athlete's overall well-being and performance.