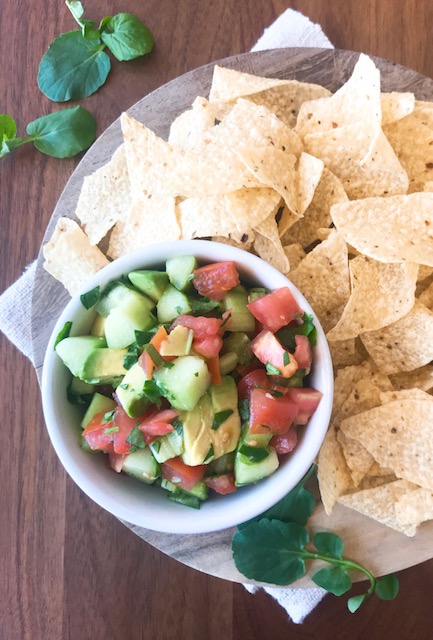 This post is sponsored by B&W Quality Growers, the world's largest grower and marketer of watercress.
Eating a plant-based diet will improve your health. Plant-based diets are associated with lower rates of heart disease, metabolic syndrome, type 2 diabetes, certain cancers, and better cognition (1,2,3,4).  Data from vegetarians suggests plant-based diets might also be associated with a longer lifespan (5).  If you love dairy or meat, you don't have to give up either to benefit from a plant-based diet. But you will benefit from adding more plant-foods, particularly leafy greens like watercress for a healthy body and mind.
Fortified with more than 18 essential vitamins and minerals, watercress is the healthiest leafy vegetable on the planet as it is high in water content, a naturally low calorie and low-fat food. It's also one of the most nutrient-dense vegetables in the world, earning perfect score on the Aggregate Nutrient Density Index (ANDI) nutrient density scale.
What is Plant-Based?
Plant-based means the bulk of your diet comes from plants. Fruits, vegetables, nuts, seeds, whole grains and legumes (beans, peas, lentils and more) are the staples of a plant-based diet.
Eating plant-based does not mean you never eat dairy, eggs, meat, fish, or poultry. However, these foods do not make up the bulk of your diet when you are eating plant-based.
How does a Plant-Based Diet Lower Disease Risk?
Plant foods are all not only full of vitamins, minerals, carbohydrates protein and healthy fats but they are also full of fiber and phytonutrients. Most Americans get half the fiber they need each day for good health. In addition to helping support digestion and preventing constipation, fiber feeds the good bacteria in our gut. The health of our gut depends on the diversity and type of bacteria that live there. Also, most of our immune system is in our gut making gut health important for immune health and, because of the gut brain axis (the gut and brain talk to each other), brain health. Gut health is quickly becoming a hot topic as scientists learn more about the importance of gut health every day.
How to Make Your Diet Plant-Based:
1. Eat More Leafy Greens
As part of the MIND diet, leafy greens are linked to a lower rate of cognitive decline. Watercress is a cruciferous vegetable, which are generally known as cancer-fighters due to their high levels of phytochemicals known as isothiocyanates. A growing body of evidence suggests watercress earns its "superleaf" title because it may help prevent the spread of cancer cells (6,7). Plus, it is a good source of vitamin A, an essential vitamin necessary for normal vision, skin health, and maintaining immune function (2). Watercress is also high in the antioxidant vitamin C, which protects the body against free radicals. Vitamin C also supports the normal function of blood vessels, healing of wounds, iron absorption, and neurological function (3).
– Try my favorite snack: watercress salsa along with lentil or bean chips.
– Spread avocado mash on a piece of higher fiber toast (my favorite one is made from almond and sweet potato flour) and top it with watercress, feta and a drizzle of balsamic glaze.
– Make broad bean or garbanzo bean chips.
– Dip celery or carrots in peanut, almond or another nut butter.
– Make my favorite salad: Watercress, pear, fig and goat cheese salad.
2. Try different forms of plant-based foods.
There are many forms and ways to cook each plant-food!
– Lentil or bean pastas are a fantastic substitute for regular pasta.
– Split pea soup vs. peas.
– Brussels sprouts cooked with turkey neck vs. roasted and crispy.
– Top cauliflower with avocado oil and parmesan cheese and roast it.
– Boil red potatoes and add olive oil and dill after cooking.
3. Make your dessert fruit and nut-based.
Fruit is available all year long. From watermelon in the summer to pumpkin in the Fall, there are many ways to enjoy fruits for dessert. I like pairing plain Greek yogurt with berries or grapes and a sprinkle of granola.
4. Add greens to your smoothie.
Use greens like watercress to enhance your favorite fruit smoothie. This is the perfect way to get more greens in your diet. My favorite smoothie includes 8 oz. 100% orange juice, a handful of frozen watercress (any time I can't use a fruit or vegetable in a timely manner I freeze it), frozen mango, ginger and vanilla or unflavored whey protein powder (an amount that contains 30 grams of protein).
5. Add vegetables to your main dishes.
– Chopped mushrooms and onions work well in beef or turkey patties.
– Add veggies to your kabobs. Try grilled veggie and meat (or tofu, which is made from soybeans!) kabobs.
– Top your pizza with sliced tomatoes, broccoli, onions, peppers and mushrooms.
– Chili is a great staple for the winter and naturally loaded with beans and diced tomatoes.
In a large bowl, combine all ingredients. Serve immediately with tortilla chips.
References
1 McMacken M, Shah S. A plant-based diet for the prevention and treatment of type 2 diabetes. J Geriatr Cardiol 2017;14(5): 342-354.
2 Kahleova H et al. Cardio-Metabolic Benefits of Plant-Based Diets. Nutrients 2017;9(8): 848.
3 Lanou AJ, Svenson B. Reduced cancer risk in vegetarians: an analysis of recent reports. Cancer Mang Res 2011;3: 1- 8.
4 Hardman RJ. Adherence to a Mediterranean-Style Diet and Effects on Cognition in Adults: A Qualitative Evaluation and Systematic Review of Longitudinal and Prospective Trials. Front Nutr 2016;3: 22.
5 Orlich MJ. Vegetarian Dietary Patterns and Mortality in Adventist Health Study 2. JAMA Intern Med 2013; 173(13): 1230-1238.
6 Gill IR et al. Watercress supplementation in diet reduces lymphocyte DNA damage and alters blood antioxidant status in healthy adults. Am J Clin Nutr 2007;85(2): 504-510.
7 Boyd LA et al. Assessment of the anti-genotoxic, anti-proliferative, and anti-metastatic potential of crude watercress extract in human colon cancer cells. Nutr Cancer 2006;55(2): 232-41.