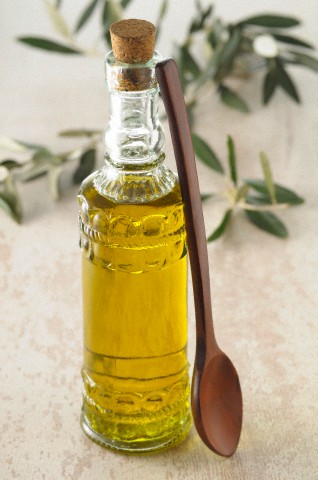 If you open a bottle of cooking oil and take months to finish it, heat, light and air start to break down the oil, making it rancid. At best, it smells and tastes different. At worse – potentially toxic compounds are produced in the oil. In this article, I'll share how to prevent the introduction of bad compounds, how to choose the right product and store it properly and discuss the difference between regular vs. extra virgin olive oil.
Choose the Right Oil for Cooking & Throw Out Your Deep Fat Fryer
For high heat cooking, choose an oil with a high smoke point. When an oil hits it's smoke point it breaks down and becomes rancid. Rancid oils may smell or taste bad (though sadly some people are accustomed to this taste as "normal") and may contain toxic compounds, some of which are believe to contribute to cell aging (1, 2, 3). In general, refined oils have a higher smoke point than those that are unrefined. Refer to the usage instructions on the bottle to find out if it be used for high heat cooking.
Use
Type of Oil
Smoke Point (3)
Greater likelihood of Oxidation (> 50 PUFA %) (4) 
Baking
Cooking
Stir Frying
Almond
Avocado
Canola
Grapeseed
Hazelnut
Peanut
Olive
Palm
Pecan
Safflower
Sunflower
High
Almond
Grapeseed
Hazelnut
Safflower
Sunflower
Light sautéing
Sauces
Low-heat baking
Coconut
Corn
Hempseed
Macadamia nut, refined
Sesame, refined
Soybean
Walnut – refrigerate after opening
Medium
Corn
Flaxseed
Hempseed
Soybean
Walnut
Dressings
Dips
Sauces
*Refrigerate these after opening
Flaxseed
Pumpkin seed
Wheat Germ
Low
In addition to using the right oil for what you are cooking or baking, throw out your deep fat fryer and quit eating fried foods (or at the very least, throw out the oil after each use). Food manufacturers and restaurants re-use oils over and over for frying. After several days they finally throw it out and replace it with fresh oil (5). Each time the oil is used it loses some of its integrity and the smoke point lowers. And though it may take several uses before it becomes rancid (depending on the type used, frying time, heat and other factors), frying decreases the amount of antioxidants in the oil (greater frying time = fewer antioxidants), changes it's chemical structure and produces trans fatty acids (repeated heating of oil, prolonged heating and heating in an iron container all increase the formation of trans fatty acids) and volatile compounds (such as aldehydes, triacylglycerol oxidation products including alkoxy, epoxy, keto monomeric compounds, and higher molecular weight oxidation products) (6, 7, 8, 9, 10).
Store it Properly
Store your oil in a cool and dry place away from direct sunlight (some oils should be refrigerated – as noted above). When possible, buy oil in dark glass containers. When monounsaturated (MUFA) and polyunsaturated (PUFA) fatty acids in oil react with oxygen they become oxidized and form a variety of chemicals, several of which are toxic (aldehydes, ketones, alkenals). The production of these compounds speeds up when the oil is exposed to heat and light or metals are present. More polyunsaturated fat = greater likelihood of oxidation so check your oil's PUFA content above and if its high, buy smaller quantities of this oil and smell-check it frequently. If it smells different than when you bought it, toss it in the trash.
What is Extra Virgin Olive Oil vs. Olive Oil?
U.S. Extra Virgin Olive Oil is the oil resulting from the first pressing of olives and is suitable for human consumption without further processing. It has "excellent flavor and odor" (smell).
U.S. Virgin Olive Oil is olive oil obtained by picking and processing olives, or blends of virgin refined olive oil. It has "reasonably good flavor and odor."
U.S. Olive Oil is a blend of refined and virgin olive oils.
Refined Olive Oil is sold as "Olive oil" or "Pure olive oil" and is the oil obtained from subsequent pressings (after the first pressing) and suitable for human consumption by refining processes which neutralize the acidity or remove particulate. Heating, neutralizing, bleaching and deodorizing may be used (10, 11).
"'Light olive oil refers only to the flavor and is determined by the amount of extra virgin olive oil added to the refined olive oil." (12)
Choose an olive oil in a dark glass bottle. California Olive Ranch is a good brand, as are the ones on this list. Or, if you want amazing authentic olive oil from trees that are 2,000 – 3,000 years old, order olive oil from this Masseria in the Puglia region of Italy.
Is Canola Oil Harmful?
If you've heard that canola oil is harmful, read this post for a good explanation of oil processing techniques.
There are plenty of oil choices depending on your desire for taste and a temperature you are using.
References
1 J Oleo Sci. 2008;57(3):153-60.
2 Toxicol Mech Methods 2006;16(5):267-74.
3 Deep Fat Frying and Food Safety. USDA.
4 Food Nutr Res. 2011;55:10.5
5 Nahrung 2002;46(6):420-6.6 
6 Food Chem 2007;104(4):1740–1749.
7 Eur J Lipid Sci Tech 2002;104(12):785–791.
8 J Food Sci Technol 2014;51(6):1076-84.
9 Chem Phys Lipids 2012;165(6):662-81.
10 J Sci Food Agric 2012;92(11):2227-33.
10 Guidance for Industry: A Food Labeling Guide (12. Appendix D: Qualified Health Claims). U.S. Food and Drug Administration.
11 United States Standards for Grades of Olive and Olive-Pomace. Effective October 25, 2010. USDA.
12 Grading Manual for Olive and Olive-Pomace. USDA. Effective May 2012.